What is Dunkeldorf?
Dunkeldorf is a line of 28-30mm Heroic Scale Miniatures with a focus on the characterful townsfolk living in Dunkeldorf. Click here to read more about the story behind Dunkeldorf
Most of the characters/miniatures have their own background story and along with concept art. Our goal is that the Dunkeldorf miniatures have a certain degree of character over them to make them stand out on the table, but at the same time that they can be used as more generic townsfolk miniatures for many purposes. Click here to learn more about the Miniatures.
In May 2019 we launched the first Dunkeldorf Kickstarter and through Stretch Goals we ended up with a total of of 18 Miniatures, Bases and several Pets and Accessories.
In June 2020 our second Kickstarter "The Prancing Peacock" launched, focusing on the fashionable halfling, Littleton Proudcock's popular inn located in Dunkeldorf. The Kickstarted ended up with adding a bunch of tavern themed miniatures, furniture and lots of accessories to the line. 
The Dunkeldorf miniatures can easily be used for many different settings and games, such as Warhammer Fantasy Roleplay, Dungeons and Dragons, Pathfinder, Mordheim, The One Ring and lots of other fantasy settings as well!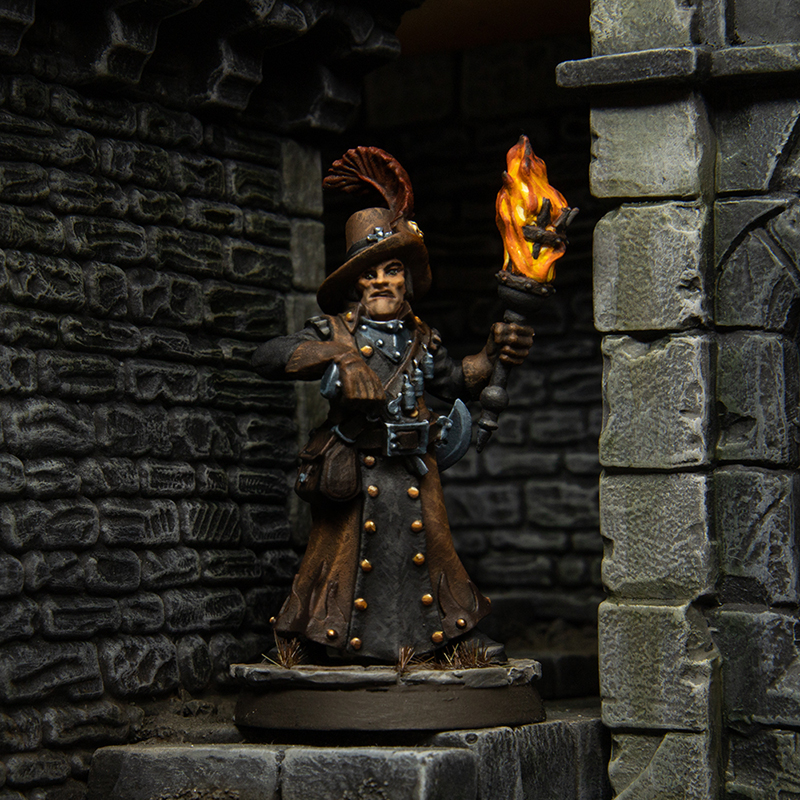 Our Vision with Dunkeldorf
Our dream is that Dunkeldorf can be used as a tool for RPG players and Game/Dungeon Masters. A town with interesting character backgrounds, stories, maps, artwork and miniatures. Everything needed for some memorable RPG sessions. 
Obviously all of this takes time, so it's a work in progress. But our goal is to keep working on the world of Dunkeldorf, add more miniatures, stories, fluff and artwork.
Eventually we plan on releasing a Dunkeldorf RPG setting book, with a bunch of adventure hooks, information about the town and the surrounding area.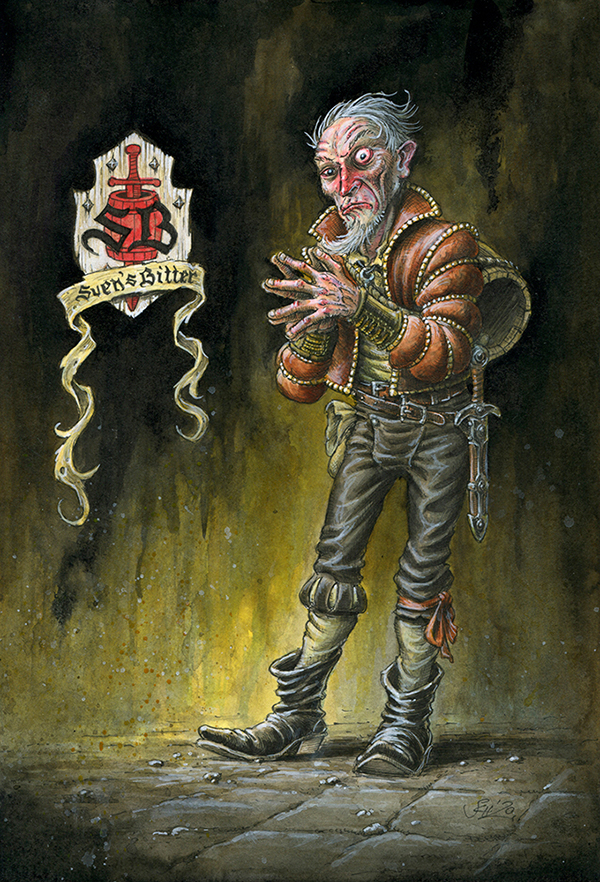 Who are we?
My name is Nicki Irmark and together with my wife Nana Kronmark we run a Miniatures & Hobby store www.KingGames.dk located in Denmark.
For a long time we have talked about having our very own line of miniatures based on our ideas and vision. And with Dunkeldorf, that's finally happening! 
Nana is an avid miniature and terrain painter and is painting all the Dunkeldorf miniatures. Both to use on our own table, but also to showcase what the miniatures look like with paint on them! You can check out Nana's Instagram account right here CabanaMinis @ Instagram
The first person we talked to about Dunkeldorf is a talented painter and sculptor named Sonny Bundgaard, who's also from Denmark. Sonny was on board straight away and has shown true dedication to the project. We're amazed at his results and we feel that the Dunkeldorf characters couldn't be in better hands. 
You can see more of Sonny's work on his Facebook Page "Imitation of Life Miniatures"
After Sonny was on board, we went searching for an artist to draw the characters for Dunkeldorf along with all the other artwork needed for the project. We quickly found another talented artist for the team, Mustafa Bekir from Japan.
Mustafa has done an awesome job making the characters of Dunkeldorf come to life through his artwork and we couldn't be happier having him on the team!
You can see more of Mustafa's work on his Facebook Page "Spevna Studio"
In early 2020 we added a new member to the Dunkeldorf team, Christian Schwager from Germany. The wonderful Prancing Peacock sign for our second Kickstarter "The Prancing Peacock" was done by Christian, as well as several miniature concepts.
For our third Kickstarter "The Kingpin of Dunkeldorf", Christian has done a ton of work and we're very happy that he's such a big part of the team now. Check out more of Christian's work here: The Art of Schwager @ Instagram
Nana and I are extremely grateful to have found such nice and talented persons to work together with on Dunkeldorf and we can't wait to explore Dunkeldorf further with them!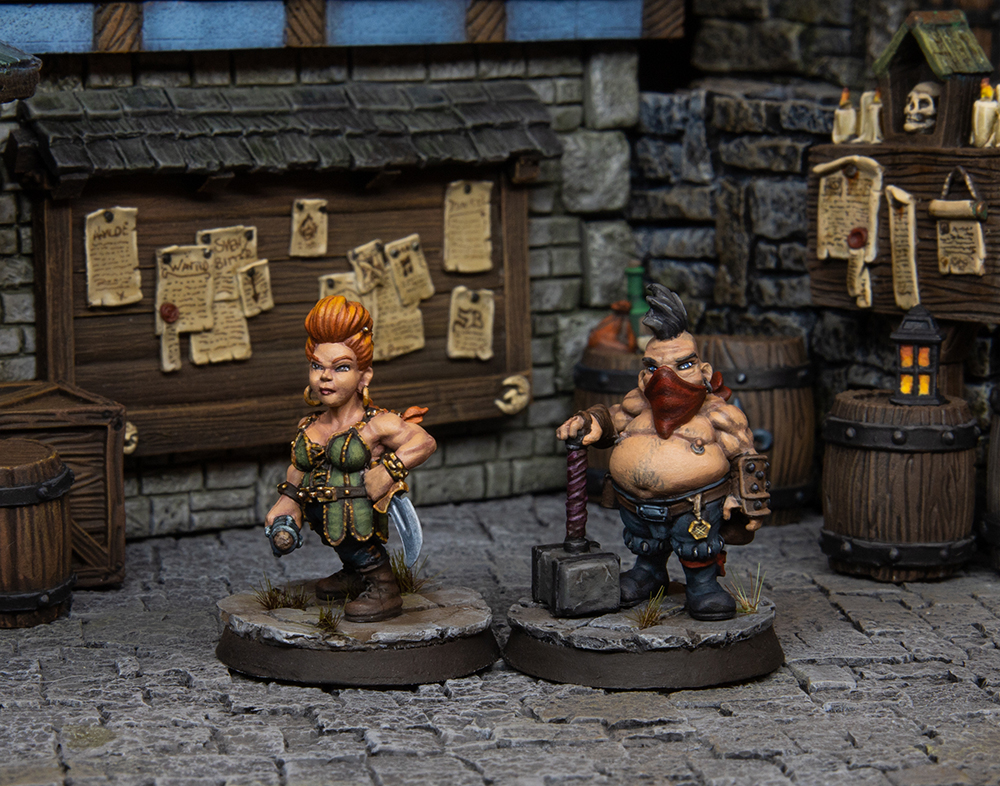 The Purpose of Dunkeldorf
Nicki and Nana have played a lot of WFRP (Warhammer Fantasy Roleplay) and are huge fans of "The Old World" – A very dark, grim and perilous setting full of anti-heroes. 
Most of the characters for Dunkeldorf are based on NPCs or heroes from our own game sessions. We have also gone for a few miniature designs that we feel are under represented – Miniatures that we have looked for in the past without any luck, for our own game sessions. 
With Dunkeldorf we get exactly the sort of miniatures we've been looking for, and hopefully other people will enjoy them just as much as ourselves.